BLITZ! No 20 - INTERVIEWS IN ENGLISH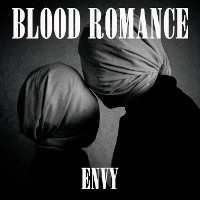 Blood Romance is a duo coming from Kazakhstan. They are interested in painting and their music is a beautiful combination of touching pop and heavenly voices. Let´s discover them now :
First of all, could you quickly introduce yourself to our readers ? When did you start playing music together ?

Hello, we are Lana and Rustam from Blood Romance. We started playing together in the cold December 2015.

According to your bandcamp, you live in (or come from) Aktobe, a city in Kazakhstan. How is the Kazakh rock scene ? Are there many post-punk, gothic rock or touching pop groups, and is it easy for them to rehearse and to release records ?

R : In 90s Aktobe was a home for a bunch of good punk rock bands, but no one played gothic or postpunk. Nowadays kids not interested in playing music, we don´t have studios and rehearsal spaces. Only couple bands plays in a garage and make a record in the home studios, Blood Romance it´s the one of those.

L : Overall Kazakh music scene is not that big right now.

Your music is a perfect combination of heavenly voices with delicate melodies. What are your main musical influences ?

R : Oh, thank you. Melody is the most important element in our music. Our biggest influences is Nirvana and The Cure. We always try to mix catchy tunes with post punk darkness.

L : When we was a kids we´ve listen a tons of pop music on tv, that influenced us too.

We would like to congratulate you for the choice of your cover photos, inspired by Gustav Klimt and René Magritte amongst others. How did you select them ?

R : It started when i´ve seen a face of dying Lucretia by Rembrandt (Love And Hate cover), she had so much pain in her eyes, « Puberte » by Monk (I´ll Be Fine cover) smells like fear and « Adele » by Klimt (Don´t Ask Me Why cover) it´s all about sex. I think art and music it´s perfect combination.

Will we have the pleasure to discover Blood Romance´s first album soon ? And have you planned some gigs in Western Europe for next year ?

L : We are planning to release a single in every month since January in next year or maybe little later, it´s possible that at the end of a year we will choose some of them, add few others songs and make an album.

R : We want to play a few g igs in Europe, if someone invites us we will come, of course. I miss the French wine. We will wait for the next issue of BLITZ!.
With love
BR
On the Web :
https://bloodromance.bandcamp.com/album/envy-ep
Vanessa Asbert & Nico Cabañas have been running ORACULO RECORDS in late 2014. Their catalogue is full of interesting artists and music, such as minimal synth/wave, post-punk and electro.
Let us discover ORACULO RECORDS through the interview they kindly gave us in November.
ORACULO RECORDS was created in March last year. Could you briefly describe its purposes and introduce the members of your team to our readers ?

Well, Oráculo was created in reality on late 2014 but obviously it took a while till we presented our first products, is not easy to explain and convince great artists to support a new project. Oráculo Records is a partnership of Vanessa Asbert (very known international professional model / just google Vanessa Asbert to understand) and Nico Cabañas (gastronomic restaurant owner / Restaurant Sant Pere del Bosc / Lloret de Mar).

The origin of the project is because both of us we love dark music and we have our own musical project (Synths Versus Me) and we are as well crazy vinyl collectors since the 80´s, so we decided to start our own vinyl label to produce first of all our own records and apart some other material from other bands we thought should be pressed on vinyl, that´s how started Oráculo Records, it was just a passion decission as be both have succesful carrers in other segments of business. On the commercial point of view Oráculo raised to satisfy the collectors market with extra deluxe editions (we press and print just on the best way money can buy) and the most important, we do it on real limited edition, our releases are not just a numbered edition of a serie, followed after by 2 or 3 different repressings, we made and we will make only one-off pressings, so our buyers knows they are doing a good investment buying Oráculos even when we are the highly priced record label out there at the moment for EP´s, in fact, some of our releases multiply it original RRP price per 4 or 5 times in only 3 months after release, and the majory maintain it original price being even used… that would be impossible without our guarantee (from the artists that sign a contract on this sense and of course from the label) about the real limited edition factor. The true is that the feedback of the market after this 2 years is just amazing… the last 10 releases has sold all of them over 70% in preorder and 3 of them sold over 90% on preorder so we are very near of not accept new customers for the direct buy to the label as we have to maintain our compromises with our distributor for stores Bordello A Parigi, probably next necessary step will be create a « customers club » with the right to order directly from the label on preorder, as we need to take care about our initial supporters continue having our new releases that as i said will continue being pressed on one-off limited edition

Your catalogue is really interesting, as its proposes post-punk bands alongside with synthpop/minimal wave groups. What are the criteria that help you to select your artists ?

Thx!, well, we dont have a fix criteria to decide what to release...we just release the music that captive us, not fixed only on a determinate style, of course is clear we like the danceable dark sounds and specially the band sound based on synthesizers but we love too the inde post punk band sound but as well we love the drone or cinematic sounds, for example one of our new releases for spring will be a elektro release, something that at first sight not have place on Oráculo´s rooster, but it captivate us and we want to release it, i mean, all styles are welcome if they accomplish with that « Oráculo sound » we search

You have already released several digital singles. Will these songs be available on records in the near future ?

Yes sure they go out on vinyl edition, in reality it´s the contrary, all the digital singles comes from a vinyl release, past or to be edited in the future, the point is that we offer to our vinyl releases owners the possibility to release on our recently created digital sublabel RaveWave that is commercially managed by our partner Blanco y Negro, one of the biggest spanish independent labels, we dont have time and neither the necessary know-how to manage properly a digital business, it´s totally different way of business than the vinyl, it´s quite complicated to have direct contact with the main stores, a basic factor to be seriously placed on the digital world so the help of a big label was the solution for us, we keep on doing the vinyl business on Oráculo and they take care of RaveWave releases.

ORACULO RECORDS is based in Lloret de Mar, a beautiful seaside resort in Catalogne. Is it easy to promote dark music when living in such a pleasant, or supposed to be as such, environment ?

For us darkness is the most beautiful and romantic way of expression so sure a beauty environment can help to create dark music, not necesary to be surrounded of grey industrial ambiences to create good music, a solitaire beach on autumn is much more evocative for us :)

Have you ever organised a gig or a tour sponsored by ORACULO RECORDS, or are you planning to do so ?

We really like the idea to organize live music events under Oráculo umbrella but the problem for us is the lack of time, we only have 1 free day at week and the rest we are extremely busy, as we did with the digital releases maybe the solution would be a partnership with someone specialized on live music… we mean, we are not preparing anything at the moment but is an idea we have in mind, sure, why not ?

Can you say a few words in French, as you also promote French groups such as Blind Delon ?

Merci beaucoup de votre intérêt pour Oráculo Records :)))

Comme tous les jeunes gens du passé et de l´avenir, nous croyons être immortels...
... mais nous le serons ! Punir votre corps ! Libérer votre âme !
On the Web : https://oraculorecords.bandcamp.com/